Foster + Partners, working with PHA Consult, have designed a major new health city masterplan in Mexico.
Foster + Partners Press Release:
"Campus Biometropolis will be a centre of medical excellence, integrating care facilities alongside state-of-the-art teaching spaces, research institutions and laboratories. The creation of a vital new nature reserve to preserve Mexico City's indigenous plants and animal species is fundamental to the aims of this low-carbon, mixed-use development.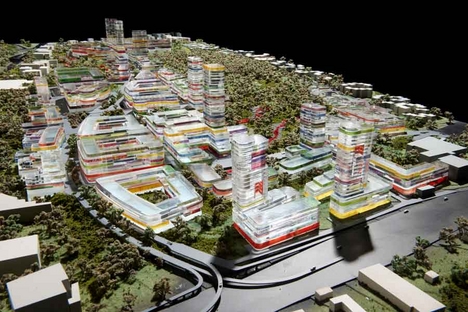 Foster & Partners/Nigel Young
This wilderness area, together with enhanced landscaped zones, will account for half of the site, providing a landscaped setting for the buildings and safeguarding the future of the land through sensitive development. The campus will include offices, apartments, shops and amenities to create a sustainable, mixed-use community. The arrangement of buildings navigates a course around the Pedregal lava fields, a network of subterranean lava tube formations and caves, sections of which will be exposed to encourage scientific investigation.
The site is close to Mexico City's southern medical cluster and the National University. The scheme integrates hotel facilities for visitors to the hospital and conference centre, facilities for bio-tech industries, clinical studies and a number of specialist units, planned to target six key areas of medicine: cancer, cardiovascular, infectious diseases, pharmaceuticals, nutrition and geriatrics.
Narinder Sagoo/Foster & Partners
Responding to the urban grain of Mexico City, the masterplan integrates public piazzas, pedestrian streets and cooling courtyards. The buildings will be oriented to capture cooling winds from the north. Given Mexico City's water shortages, the campus is designed to maintain and augmenting the proportion of green space through which water can be absorbed naturally into the aquifer below. Rainwater will also be harvested from roofs, roads and available open space.
Narinder Sagoo/Foster & Partners
The transportation strategy is designed to encourage the use of public transport. Solar-powered electric vehicles will move people around the campus, walking distances are short and a bus connection to the nearby university station will fully utilise the available capacity on a quieter section of the metro line. While parking spaces will be incorporated, they will be located below a raised podium level to create a pedestrian environment and maximise the available space for the nature reserve at ground level."
PHA Consult were responsible for developing the sustainability and environmental design strategies for the masterplan. Computational environmental analysis was used to develop passive design responses to building form and orientation, energy and resource modelling and international benchmarking all contributed to the development of an holistic approach to sustainability for the project.
PRNewswire:
"Campus Biometropolis will be sustainably designed and built, and will be composed of hospitals, laboratories and medical universities, as well as residential and retail areas. In addition, the complex will include a natural reserve and will become a model for green buildings and water conservation. This project is in accordance with Mayor Ebrard's plan to transform the city into one of the most environmentally-conscience and sustainable cities in the world.
The medical hub is at the core of Mayor Ebrard's General Development Plan, which was designed to convert Mexico City into Latin America's premier knowledge economy. The five-year plan, launched in 2007, aims to create more equity for Mexico City's inhabitants by building a sustainable and inclusive city, promoting equality through better health, education and technology and improving the competitiveness of the Mexican capital."